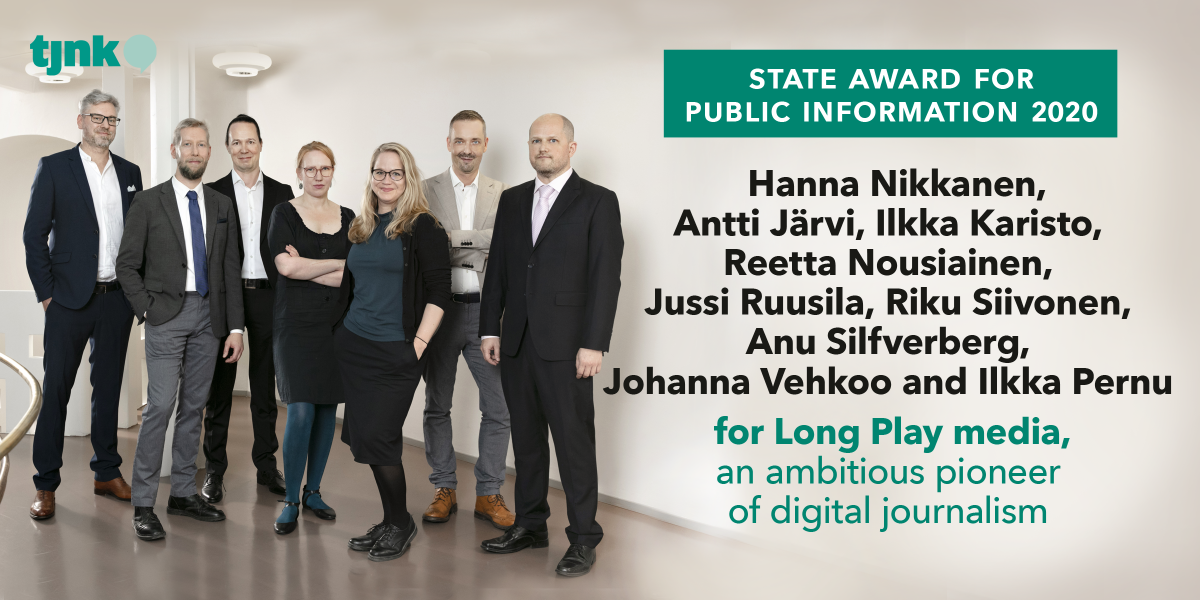 The working group for Long Play media, an ambitious pioneer of digital journalism.
Journalist and non-fiction writer Hanna Nikkanen, editor-in-chief Antti Järvi, subeditor Ilkka Karisto, journalist and journalism lecturer Reetta Nousiainen, managing director Jussi Ruusila, journalist and scriptwriter Riku Siivonen, managing editor Anu Silfverberg, journalist and non-fiction writer Johanna Vehkoo, and journalist and scriptwriter Ilkka Pernu.
The forms of journalism and the associated earnings models are in a state of profound transformation. Long Play has established a position as a pioneer in digital journalism based on thorough groundwork and facts.
Long Play, which was founded in 2013, publishes 12 articles a year of long-form reportages, profiles, essays and investigative journalism. Long Play is financed by its readers and does not include adverts. It provides talented independent journalists with an important publication channel and the opportunity to cover their topics in exhaustive depth. It also publishes short articles free of charge and reader letters, and it arranges training in writing.
Long Play's ambitious journalism serves as an excellent counterbalance to fast-paced, commercialised news journalism. It highlights themes that have been hushed up or neglected and covers them in an informative but entertaining way.
Long Play sets an important example for the development of high-quality journalism, making a younger audience more aware of journalism. In doing so, Long Play is playing a part in reinforcing freedom of speech and democracy.
Photo: Jaakko Lukumaa.
You might also be interested in