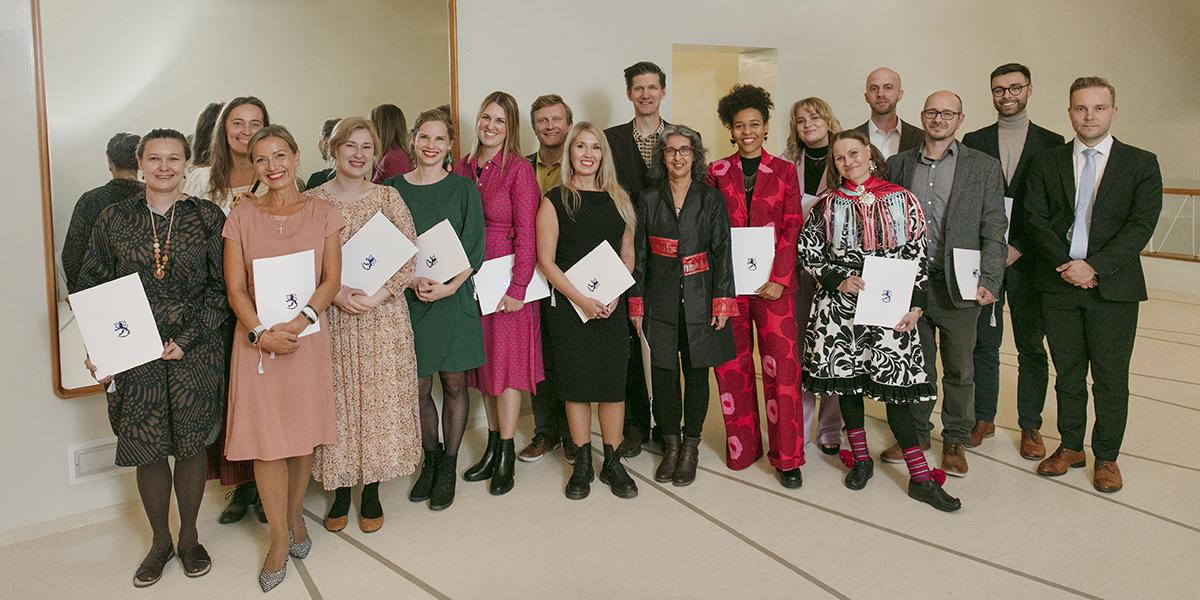 Minister of Science and Culture Petri Honkonen handed out nine State Awards for Public Information  on 13 September 2022. 
Artist, choreographer Sonya Lindfors on multidisciplinary information publication through communal art
For years, Sonya Lindfors has been involved in impressive and responsible information publication work through multidisciplinary art projects. She has worked as a dancer, choreographer and trainer, and as the Artistic Director of the arts community UrbanApa. Lindfors has created communal practices for information publication with various art, science and civic communities and has openly brought up topics that have often been ignored in Finnish public discussion. At the same time, she has cleared space for different minorities and marginalised groups in the field of information publication and made the prevailing power structures of information publication visible, such as the dominance of whiteness.
The topics of dance art projects led by Lindfors have included, in particular, blackness and racism, equality, cultural representations and the heritage of colonialism. She has started discussions on the importance of recognising diversity and inclusion as well as corporality as a tool for experiencing, studying and telling things. Lindfors' work in information publication is characterised by a sense of community and participation, dismantling different hierarchies, and seeking new operating methods, places of operation and better futures for everyone.
Author Anniina Ljokkoi, author and doctoral dissertation researcher Liisa Kaski and photographer Tuuli Mathinen on the book Perinnevegeä
The Perinnevegeä book ("Traditional Vegetarian Food") presents Finnish food culture and food history from the perspective of vegetarian courses through beautiful images and fun-to-read, fact-packed text. Almost 50 vegetarian recipes clarify the message of the book. Modern recipes guide the reader to prepare and sample the courses. 
The book offers options in how to have a vegetarian diet in practice for climate or ethical reasons. Recipes and text describe the utilisation of local produce in the past and present in an enjoyable and interesting manner. The book encourages to follow a health-promoting diet which is also suitable for people who gradually want to start eating more plant-based foods. At the same time the readers learn more about past Finnish food traditions and traditional food before the era of the Karelian roast.
In recent years plant-based protein and milk products have entered the consumer market. The book presents the old counterparts of these modern products and describes their previous production in Finland and around the Baltic Sea. At the same time the reader can try out recipes using cheaper ingredients, including local food.
The subject of the book is topical from many perspectives. Favouring a plant-focused diet is an important way for individuals to help prevent climate change and promote health. A large number of Finns still eat too few vegetables daily, which in turn is related to the development of significant public health problems. The theme of the book is also timely when considering the future of agriculture and the self-sufficiency of Finnish food supply.
Journalist Tommi Nieminen on defending freedom of expression and other human rights through journalism
Tommi Nieminen is a versatile journalist with the ability to familiarise himself with news items deeply and from new perspectives. In his work, he particularly has raised issues related to human rights and freedom of expression. Recently, his articles have discussed and provided interesting background information specifically on the uprising in Belarus and the war in Ukraine.
Especially Nieminen's monitoring of the uprising in Belarus on Twitter in late summer 2020 is a significant journalistic act. Nieminen's daily reporting did not only cover events that were visible in other news streams but also brought up the consequences of the state's repressive machinery for everyday life and ordinary citizens in Belarus. Nieminen also summarised the key results of his work in the report Suuri puhdistus ("large-scale cleansing") published in Helsingin Sanomat in January 2022. By then, Nieminen had been following the uprising for 538 days. In the article Nieminen also anticipated the war in Ukraine.
Nieminen continues to follow his topics persistently even after the rapid journalism cycle has already moved on. He presents the background information of his stories thoroughly and uses social media material diversely and creatively as material for his articles. This allows the reader to learn more about the events and interpretations through the original source material. Long-term monitoring provides an opportunity for a more in-depth understanding of day-to-day political developments, thus providing readers with resources for historical understanding.
Psychologist Julia Pöyhönen, psychologist Heidi Livingston and artist Linnea Bellamine on Fanni children's books
The main character of the Fanni books is the small elephant Fanni who goes on adventures with her animal friends. In each book a character experiences emotional turmoil, anger or fear. Subsequently the animals try to process the emotion together and understand what caused it. This is what adults would call problem solving through emotional regulation.
The Fanni books are commendable because the authors have identified practical situations that children experience. The illustrations of the books show compassion, and the actions and expressions of the animal characters show the expression of the eruption of emotions well. The pace of the drawings and narration is suitable for a child reader. An innovative emotional thermometer helps readers understand the intensity of the emotion.
In addition to the story, each Fanni book has an information section for adults and exercises for learning emotional skills. Nowadays children may become isolated in front of their smart devices, so practising social skills as well as recognising, naming and managing emotions is increasingly important from a young age.
The Fanni books are suitable for use at home as well as early childhood education and care. Six books and emotional skills cards were published in 2020-2022. The authors recommend the books for children aged 4-7 years but even an adult reader will reflect on the onset of emotions while reading. And when parents read the books to their children enthusiastically, the experience is communicated to the youngest in the family even better.
Actor-directors Timo Ruuskanen and Tuukka Vasama, dramaturge Eva Buchwald and director Linda Wallgren on the brilliance of knowledge and skills in the theatre work Aleksis Kivi
The theatre work Aleksis Kivi – mies, josta tuli monumentti ("The man who became a monument") presents the life and works of our national author with staggering versatility. The performance is more than art: The epiphanies it offers and the combination of long continuums and topical phenomena are also features of high-quality information publication. 
In two hours, the viewer gets a comprehensive idea of not only the life and works of Kivi but also the background of Finnish culture, literature, performing arts and societal debate from the 19th century to the modern age. The work is based on extensive research material and its insightful application by means of dramaturgy, not forgetting clownery. The work also accumulates information through systematic audience outreach, educational materials for school children and a national tour. 
The joyful and profound performance by a clown duo interprets the construction of our modern society and identity in an intellectual and high-quality manner. A strong desire derives a person straight through the hardest rock, as Aleksis Kivi by Red Nose Company and the Finnish National Theatre expands the audience's understanding culturally, historically and artistically in an unprecedented manner.
Visual artist Riina Tanskanen on starting societal discussion and communication through comic books
Riina Tanskanen highlights social disadvantages, especially the treatment of girls and young women. Her cartoon art deals with inequality, body image, appearance pressures, sexuality, racism and sexism. 
The Tympeät tytöt works discuss the world where girls live in using a ruthlessly expository and fair presentation. Through cartoons Tanskanen speaks of the experiences of today's girls and women and also describes the background of phenomena. She highlights how the philosophers and learners of the past centuries, those in power and those defending equality have shaped society. Everyday examples illustrate the long history and baggage of prejudices and hierarchies. 
Tanskanen's work takes readers to the discomfort zone. Sexual harassment is common. She also takes a stand on the mechanisms of the pressure to look and pose a certain way that are prevalent in the modern day. It is important to speak out about unpleasant topics and make them visible so that the experience and shame do not become an individual burden. In particular, Tanskanen's work is particularly known for its multi-channel nature and impact and the diversity of the audience. 
Tanskanen shows the main message of information publication: attitudes and oppressive ways live in each and every one of us. It is important to remain humble in the face of it. 
Docent of Theoretical Physics and Researcher of Cosmology Tommi Tenkanen on making the universe understandable through science communication
In addition to his internationally respected scientific research and scientific administrative duties, Tommi Tenkanen (Docent of Theoretical Physics and researcher of cosmology) has participated extensively in societal interaction on many different discussion forums. 
In his research, Tenkanen has been particularly interested in the theme of one of the most important mysteries in physics: the dark matter that remains invisible. In addition, he is interested in black holes and gravity. These are all topics of interest to the general public. Simultaneously these are topics that require solid competence to make them understandable for the general public. Tommi Tenkanen commendably makes this so-called cutting edge scientific research approachable and understandable.
In addition to his active and versatile work on popularising information and research, Tenkanen has written two works for the general public in Finnish (Pimeän aineen arvoitus, Ursa 2019 and Matka mustaan aukkoon. Alkuräjähdyksestä kaiken teoriaan, Ursa 2021).
In his articles and speeches, he has made various fundamental problems of the universe understandable and interesting to those who are not involved in the field of science.
Research Professor Antto Vihma on the book Nostalgia. Teoria ja käytäntö
Modern nostalgia is a complex and diverse phenomenon. It can be used to explain both human and everyday emotions and behaviour as well as global political events. 
In his book Nostalgia. Teoria ja käytäntö, Antto Vihma presents modern nostalgia in the western context. Through the history of nostalgia, Vihma explains the relationship between modern populism and nostalgia, which is illustrated by four recent example phenomena: Brexit, the German AfD Party, Donald Trump and the Finnish True Finns Party. Finally, the subgenres of nostalgia are specified and the significance of nostalgia in, for example, popular culture and consumption is discussed.
When dealing with the nostalgia phenomenon, Vihma ignores simple and reductive solutions and helps the reader notice how attractive and appealing nostalgia is and how it is used as a fuel to achieve different goals. At the same time, Vihma offers an excellent explanation for why some of us are more susceptible to believing in conspiracy theories than others - something that many people have been thinking about in recent years.
Vihma also points out that although nostalgia is often thought to decrease with large age groups, the global phenomena that create nostalgia are not disappearing. 
The book evokes thoughts that the reader will carry long after reading and that will keep emerging, proving that nostalgia is everywhere.
Documentarist Suvi West on the important and topical documentary film Eatnameamet – Our Silent Struggle 
The documentary film Eatnameamet – Our Silent Struggle (Vaski Filmi Oy 2021), directed and scripted by Suvi West, brings up a very topical social theme: the preparation of the Sámi Truth and Reconciliation Commission and, through it, several painful events experienced by the Sámi community in relation to the use of power against them.
West's documentary skilfully highlights perspectives and dialogues that are often hidden or ignored in public discussion related to the topic. This makes the document and its perspectives more comprehensible. The film represents well a fairly rare form of documentary-making in Finland that takes a social view and critically examines our time and highlights minority voices.
West's background as a film maker is diverse. She has not been afraid to discuss issues close to her, even difficult ones. At the same time, she has been able to examine being Sámi in a new way through humour. Examples of these are documentary film Minä ja pikkusiskoni as well as the TV series Märät säpikkäät. From the perspective of information publication, West's production shows how it is possible to discuss often even painful topics that remain marginal in public through cinematography using new perspectives. 
You might also be interested in