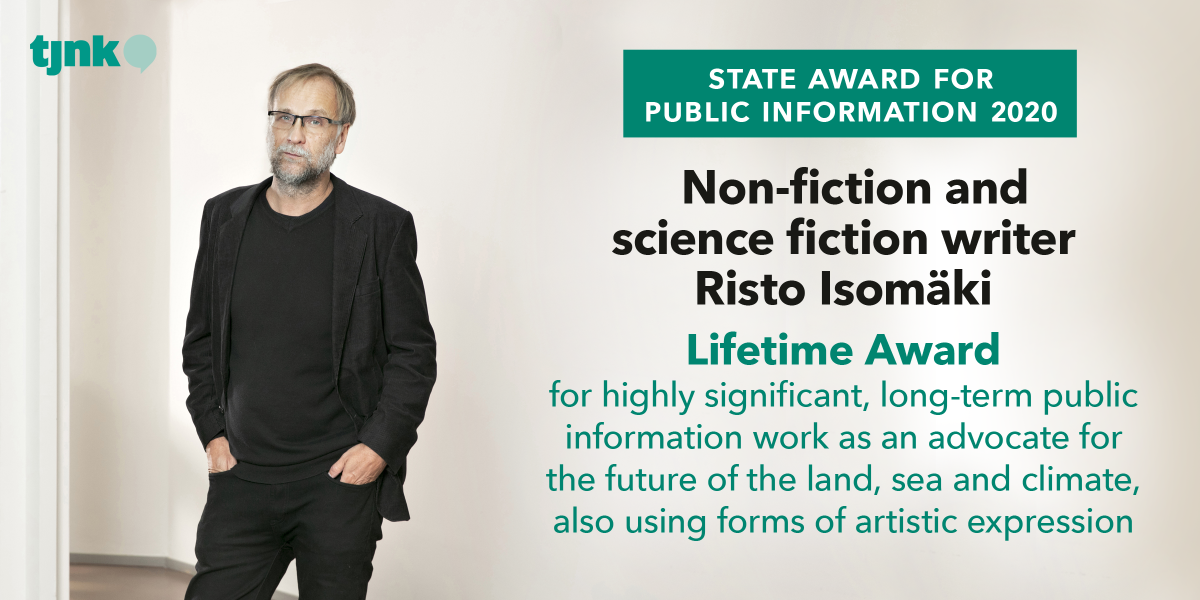 Non-fiction and science fiction writer Risto Isomäki received lifetime award for highly significant, long-term public information work as an advocate for the future of the land, sea and climate, also using forms of artistic expression.
Risto Isomäki has published one book each year for the past 25 years. He has published a wide variety of works, ranging from science fiction, novels, essays and pamphlets to handbooks and non-fiction literature. Isomäki also typically blends literary genres within each of his works. In addition, films and comics have been made on the basis of his works.
Isomäki rose to public prominence in 2005, if not before, when his novel, Sarasvatin hiekkaa (The sands of Sarasvati), was nominated for the Finlandia Prize. Isomäki went on to receive the science fiction award and the Warelius award from the Association of Finnish Non-fiction Writers. 
The defining themes behind Isomäki's activities and output are the destruction of the environment and climate change. His works combine research information with imaginative plots typical of science fiction. His books offer readers experiences and excitement, as well as information on the essentials for life: the sea, trees, glaciers and animals.
Isomäki moves smoothly from one continent to the next, from era to era, and between the worlds of fact and fiction. It is no wonder that his favourite character is Snufkin from the Moomins. 
In addition to his prolific literary output, Risto Isomäki is also an active influence in matters concerning the environment and developing countries. He asks questions, provokes debate, gives his justifications and seeks to drive a change towards a sustainable future. 
Photo: Jaakko Lukumaa.
You might also be interested in