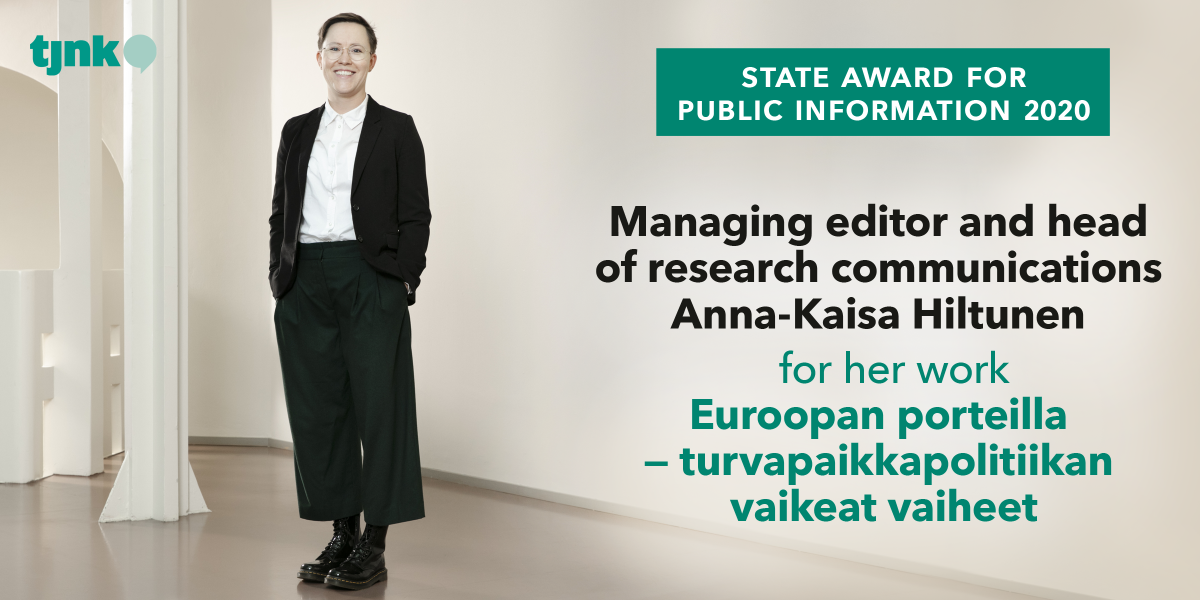 Managing editor and head of research communications Anna-Kaisa Hiltunen for her work, Euroopan porteilla – turvapaikkapolitiikan vaikeat vaiheet (At the gates of Europe – the difficult phases of asylum policy).
As its name implies, Euroopan porteilla uses balanced information to open the door to the past and present state of Europe's refugee and asylum policy. The work is the first non-fiction book in Finnish about the backgrounds and history of the EU's asylum policy. 
Euroopan porteilla offers a wide-ranging, clear overview of the development of refugee and asylum policy in Europe since the Second World War. The book is equally relevant as a specialist work on asylum policy as well as a non-fiction book describing post-war history in Europe, covering the phases of the Cold War, economic crises and the ups and downs of European integration through the prism of asylum policy. By combining issues concerning refugees and asylum with the sometimes tense history of European integration, Anna-Kaisa Hiltunen provides valuable insight into how these issues have established their roles in the history of Europe – at times controversial, at others overlooked.
The author, Anna-Kaisa Hiltunen, is an expert in many dimensions of her chosen theme. She is a journalist specialising in migration issues, and she worked as a visiting expert at the Ministry for Foreign Affairs of Finland. The book tackles a global phenomenon from a cross-border perspective, which is worthy of special merit. The outcome is an impressive book about a phenomenon that is discussed at least as much in terms of emotion and opinion as it is on the basis of research-based knowledge.
Photo: Jaakko Lukumaa.
You might also be interested in