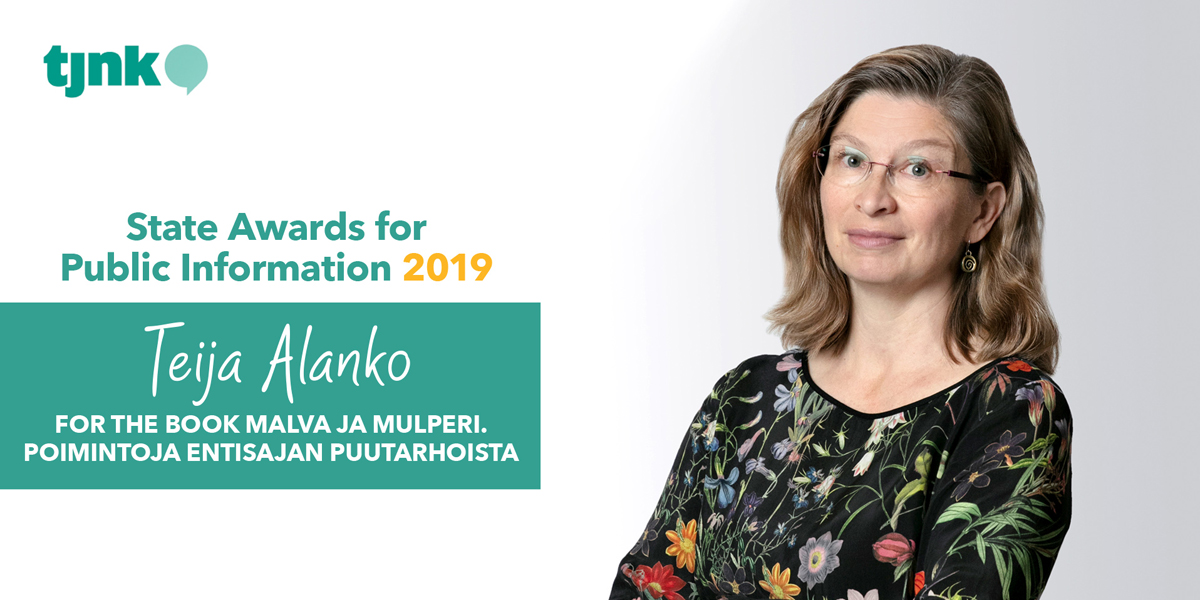 Plant archaeologist and biologist, Teija Alanko, PhD, for the book Malva ja mulperi. Poimintoja entisajan puutarhoista (Mallow and mulberry. Pickings from the gardens of the past)
Researchers in different areas, such as historians, art historians, landscape architects and botanists, have commendably explored Finnish horticultural history through different literary and pictorial sources. In her research, Alanko has combined plant biology with plant archaeology and by broadening approaches managed to produce information that has previously literally been hidden under the soil, buried deep.
Relying on archaeobotanical research, in her book Alanko creates a dense but multi-dimensional description of different types of Finnish gardens and explains the history of the plant species that they feature. Through this, she simultaneously draws a map of how people have moved across the world and gathered information about medicinal plants and foods, and also surveys aesthetics and symbols of power.
The wide-ranging scope of horticultural history is told by the ways monasteries, castles, apothecaries, manor houses and vicarages created gardens and made use of the plants. At the same time, the book describes the birth of urban gardens as academic educational environments and commercial production units.
Malva ja mulperi opens up new perspectives on everyday plants such as lilac, potatoes or pears, and also opens the reader's eyes to the origin and exotic nature of grasses in the natural world on the doorstep and of wild herbs.
At a time in which planters are appearing on the roofs of city blocks and instead of neatly cut lawns there is a hope that meadows will be grown to provide habitats for insects, in-depth information about mankind's relationship with plants from a cultural and natural science perspective is extremely valuable.
More information in the Ministry's press release
You might also be interested in