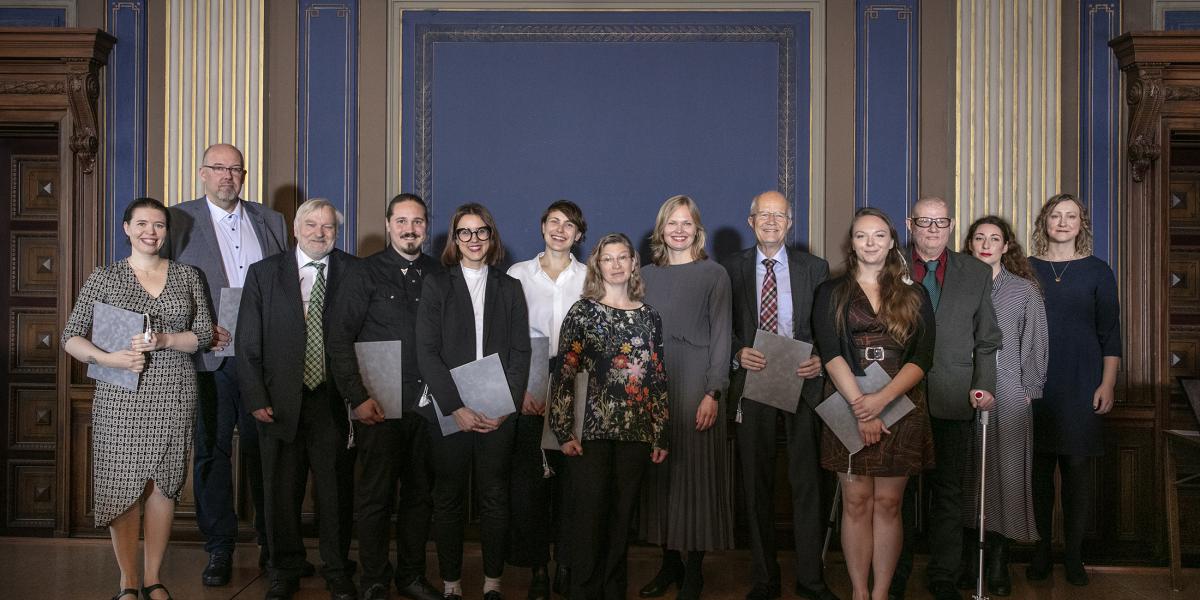 Finland's Ministry of Education and Culture's press release.
Each year, Finland's Ministry of Education and Culture grants the State Awards for Public Information to significant work in the field of public information in science, the arts and technology, which has increased popular awareness and enlivened debate in society. The State Awards for 2019 were given out by the Minister of Science and Culture Hanna Kosonen on 1 October 2019.
The lifetime award (1) and the award for the Sukupuolena ihminen project (2) amount to EUR 20,000. The other awards are for EUR 15,000.
PUBLIC INFORMATION LIFETIME AWARD
Professor Pertti Mustajoki for extremely important long-term public information work in the field of health and healthy living
Pertti Mustajoki (25 April 1943) is a doctor of internal medicine specialising in metabolic diseases. For more than thirty years, he has been writing and speaking about weight management and promoted changes in lifestyle by providing individual and group advice to thousands of people suffering from being overweight.
Being overweight is a serious health risk. Many common illnesses such as diabetes, high blood pressure and cardiovascular illnesses are associated with being overweight. More than two million people in Finland are overweight. Half of them are struggling with weight loss and are repeatedly trying to lose weight. The message founded on the scientific research that Mustajoki has been summing up for years is that restricting one's eating through various diets is a terrible way of permanently losing weight. From the mass of research results available, Mustajoki has gathered and curated ways through which the number of calories eaten can be reduced and weight can be lost without going on a strict diet. Thus he has given hope to overweight people suffering the yo-yo effect of a maelstrom of diets: permanent weight loss is possible.
Mustajoki has published numerous books on weight management. Laihdu pysyvästi (Lose weight permanently) was published for the first time in 1988. This was followed by works including Paahtoleipäkatastrofi (The toast catastrophe) (2003), Ylipaino – tietoa lihavuudesta ja painonhallinnasta (Being overweight – information about being fat and weight management) (2007), Painonhallinta (Weight management) (2010) and finally Vähennä kaloreita ilman dieettiä (Cutting calories without dieting) (2016). In addition to the books, he has put in hard work writing articles geared towards the general public in newspapers and magazines and answering readers' questions. Pertti Mustajoki also has a large number of medical publications to his name; he has published almost 200 scientific articles and textbook chapters. His blog Painonhallinta – kirjoituksia ylipainosta (www.perttimustajoki.fi) gathers together tens of current articles for people struggling with their weight. Mustajoki is a popular speaker, who says that especially through visiting small groups he has gained a deeper understanding of the difficulties that overweight people face.
Despite the increase in obesity, only very few, if any, Finnish experts have spoken as faithfully and untiringly about being overweight, in information published for the general public, as professor Pertti Mustajoki.
AWARDS FOR EXEMPLARY PUBLIC INFORMATION
Producer Maiju Ristkari, curator Nina Suni and photographer Vesa Tyni for the multimedia Sukupuolena ihminen (Gender human) project
Sukupuolena ihminen is a multimedia project which presents the diversity of gender identity. The project comprises a photographic exhibition, a book and a website, and the project as a whole seamlessly brings together research data, expertise borne of experience and art.
The photographic exhibition depicting trans people has toured 26 locations in different parts of Finland, from Helsinki to Rovaniemi and from Kuusankoski to Lapua. Vesa Tyni's pictures present their subjects in environments that are important to them, with respect. The exhibition spaces have often been public libraries, whose statutory mandate includes promoting active citizenship, democracy and freedom of expression. These aims are shared by the Sukupuolena ihminen project, without being too pushy or unnecessarily provocative.
The Sukupuolena ihminen book is a wide-ranging presentation of gender identity. It is designed for young people but is equally suitable for anyone interested in gender identity. It undoubtedly serves as support and help to young people seeking their identity, while also expanding the world and the thinking of the majority cis population.
The website brings together the life stories of people with different gender identities in words and pictures, valuing the people who have made their experience public.
The Sukupuolena ihminen project successfully combines different forms of gathering and publishing information. As a project that makes use of data based on research and based on experience, as well as different forms of publication, it deepens our understanding of a subject in society that touches every individual, which is at the same time private and public. The end result is an informative and human whole.
Plant archaeologist and biologist, Teija Alanko, PhD, for the book Malva ja mulperi. Poimintoja entisajan puutarhoista (Mallow and mulberry. Pickings from the gardens of the past)
Researchers in different areas, such as historians, art historians, landscape architects and botanists, have commendably explored Finnish horticultural history through different literary and pictorial sources. In her research, Alanko has combined plant biology with plant archaeology and by broadening approaches managed to produce information that has previously literally been hidden under the soil, buried deep.
Relying on archaeobotanical research, in her book Alanko creates a dense but multi-dimensional description of different types of Finnish gardens and explains the history of the plant species that they feature. Through this, she simultaneously draws a map of how people have moved across the world and gathered information about medicinal plants and foods, and also surveys aesthetics and symbols of power.
The wide-ranging scope of horticultural history is told by the ways monasteries, castles, apothecaries, manor houses and vicarages created gardens and made use of the plants. At the same time, the book describes the birth of urban gardens as academic educational environments and commercial production units.
Malva ja mulperi opens up new perspectives on everyday plants such as lilac, potatoes or pears, and also opens the reader's eyes to the origin and exotic nature of grasses in the natural world on the doorstep and of wild herbs.
At a time in which planters are appearing on the roofs of city blocks and instead of neatly cut lawns there is a hope that meadows will be grown to provide habitats for insects, in-depth information about mankind's relationship with plants from a cultural and natural science perspective is extremely valuable.
Dr of social sciences, professor emeritus in political history Seppo Hentilä for the book Pitkät varjot. Muistamisen historia ja politiikka (Dark shadows. The history and politics of memory)
Professor Seppo Hentilä's book Pitkät varjot describes the battle for interpretations and memories of Finland's war of 1918 across the decades. One familiar example of this is the dispute about the name of the war itself. Not long after the war ended, the winners interpreted events as a war of liberation, stifling the voices of the losing side. After the Second World War, the more conciliatory term of it having been a kansalaissota (in Finnish literally a "war between citizens") emerged alongside the "war of liberation" interpretation and eventually overtook it. This was possible because the image of a united country that had spread following Finland's experience of the Winter War had hidden the worst brutalities of the 1918 war from view. When it was proposed in the early 1990s that the term should in fact be a sisällissota (in Finnish literally an "internal war"), this once more caused a fuss among supporters of the "war of liberation" interpretation.
The subject of Hentilä's book is thus up to date, in addition to the fact that it was published in the war's centenary year. To this day, people in Finland can be pinpointed on the Finnish political spectrum by the way they refer to the war of 1918. However, Hentilä's book not only describes the dispute about the name of the war but also addresses at a general level how the interpretations of the past in force at different times reflect society. This is what makes the book significant. People's minds are controlled by means of interpretations of the past. Those who are in charge in society also seek to control interpretations of the past for this reason. That is the politics of history.
Researcher, ecologist Katariina E. M. Vuorinen (pen name Maria Katajavuori) for the book Kuoleman ja elämän kysymys. Miten yksilöt, lajit ja yhteiskunnat altistavat itsensä tuholle (The Matter of Death and Life. How individuals, species and societies destroy themselves)
"When I was born, I had already started to die." This is the start of Maria Katajavuori's (alias Katariina E. M. Vuorinen) first non-fiction book Kuoleman ja elämän kysymys. In the book, Katajavuori suggests that both cells and civilisations are self-destructive systems that do not seize the opportunity of eternal life but instead choose death. This phenomenon explains why our bodies age, why species die out and why human communities destroy their environment. Although this thesis sounds doom-laden, the message of the book is the reverse: understanding self-destructive systems is the first step towards finding functioning solutions to prevent environmental disasters.
The text moves from small to large-scale examples and from biology to social sciences at a breath-taking pace. Katajavuori compares the decay of the human body with a poor-quality toaster, presents slime moulds as model students of sustainable consumption and compares the characteristics of snakes hunted by raccoons with misleading environmental advertising. However, the book is not superficial rhetorical tricks but a chain of well-argued claims.
The long list of references is packed with top international research and it is hoped that the book will also attract attention outside Finland.
Maria Katajavuori's Kuoleman ja elämän kysymys. Miten yksilöt, lajit ja yhteiskunnat altistavat itsensä tuholle is a unique and thought-provoking work. Thanks to its outstanding narrative and beautiful language, and despite its gloomy theme, the book is an enjoyable and energetic reading experience, a roller-coaster with a difference which leaves the reader reeling.
Dr of social sciences, sociologist Anna Kontula for the book Eduskunta. Ystäviä ja vihamiehiä (Parliament. Friends and enemies)
Anna Kontula's book Eduskunta. Ystäviä ja vihamiehiä is a densely written description presenting an insider's view of what happens at the heart of Finnish democracy, in the Finnish Parliament.
The book takes ordinary citizens behind the scenes, providing access to the kind of information that is not found in the media or in documents. The book talks about the unspoken rules that dictate the work of members of parliament, the customs of the Finnish Parliament and the pecking order. It reveals clear examples of how members of parliament's well-being, their family and their relationships are put under strain because of their work. The book covers becoming a member of parliament and staying there, the income and benefits that members of parliament gain and the importance of networks and information in decision making.
Researcher Anna Kontula has been a member of the Finnish Parliament since 2011. In the book Eduskunta. Ystäviä ja vihamiehiä, Kontula makes sociological observations in a community in which she is also a full member herself. She also interviews 16 members of parliament who talk about the pressures they experience. However, the book is not research into power, centred on conflict but a popular description of the group dynamics of parliament.
Anna Kontula has the skill to combine the professional gaze of a researcher with her work as a member of parliament. In her work, she dismantles illusions of the work of parliament being merely drinking coffee and pressing the voting button and focuses on the deeper realisation of parliamentary democracy in a workplace known as the Finnish Parliament. The book is the account of a researcher and someone with personal experience of how the small world of 200 members of parliament works and remains capable of operating.
Journalist Kimmo Oksanen and photographer Heidi Piiroinen for the project Ohikuljetut. Erään kerjäläisperheen tarina (The Invisibles – Story of a Beggar Family)
Journalist Kimmo Oksanen and photographer Heidi Piiroinen followed the story of a family of Roma beggars for ten years, 2007–2017. This work resulted in a photographic exhibition, several newspaper articles and finally a book, Ohikuljetut. Erään kerjäläisperheen tarina, which tells Mihaela's story in words and pictures.
Mihaela was born in Romania in 1991. She arrived in Finland at the age of 16 after a complicated journey with many stages, with the aim of earning a living by begging and sending money to relatives who had stayed in Romania. The authorities wanted to return Mihaela back to her home country, or as officialdom put it "help her home". This stopped when Mihaela went into labour en route to leaving the country.
Oksanen and Piiroinen have highlighted the situation of Roma beggars in a book, in articles and in an exhibition. They did not set out to produce a package of information about Roma culture or a social analysis, although the works contain these elements. Instead they tell the story of people who are just like everyone else. People who have hopes and dreams, but who encounter extraordinary obstacles on their journey towards their goal.
The book is moving, thought-provoking and also inspires hope. The way it is presented is descriptive but warm and human. Oksanen and Piiroinen have worked for a long time and commendably in order to depict the life of Roma people and help us others to understand some of the greatest human suffering in Europe. Documentary photographs and reporting in diary form highlight viewpoints and overturn prejudices.
The book does not blame the Roma people, or the people who for their own reasons walk past them. Kimmo Oksanen and Heidi Piiroinen did not walk past but walk alongside.
Science journalist Marcus Rosenlund for the book Väder som förändrade världen (The weather that changed the world)
The book Väder som förändrade världen brings a weighed up and wide-ranging point of view to the climate change debate. Marcus Rosenlund creates a story from seemingly unrelated events which demonstrates the connections between humankind and nature.
Väder som förändrade världen skilfully brings together many different areas of expertise. Marcus Rosenlund touches on, for example, climate research, meteorology, historical research and voyages of discovery.
Väder som förändrade världen describes how everywhere in the world and throughout history weather and climate have been important to human development. With the help of easily understandable events drawn from a wide span of history, Rosenlund explains how weather and climate conditions have made things difficult for mankind. Harsh climate conditions have affected politics and everyday matters, from wars to food habits.
Rosenlund offers hope in the face of impending climate change. Weather changes the world but Rosenlund shows that people have the capacity to change their own actions and survive devastating natural disasters.
More information on the background of the State Awards for Public Information on this site
You might also be interested in