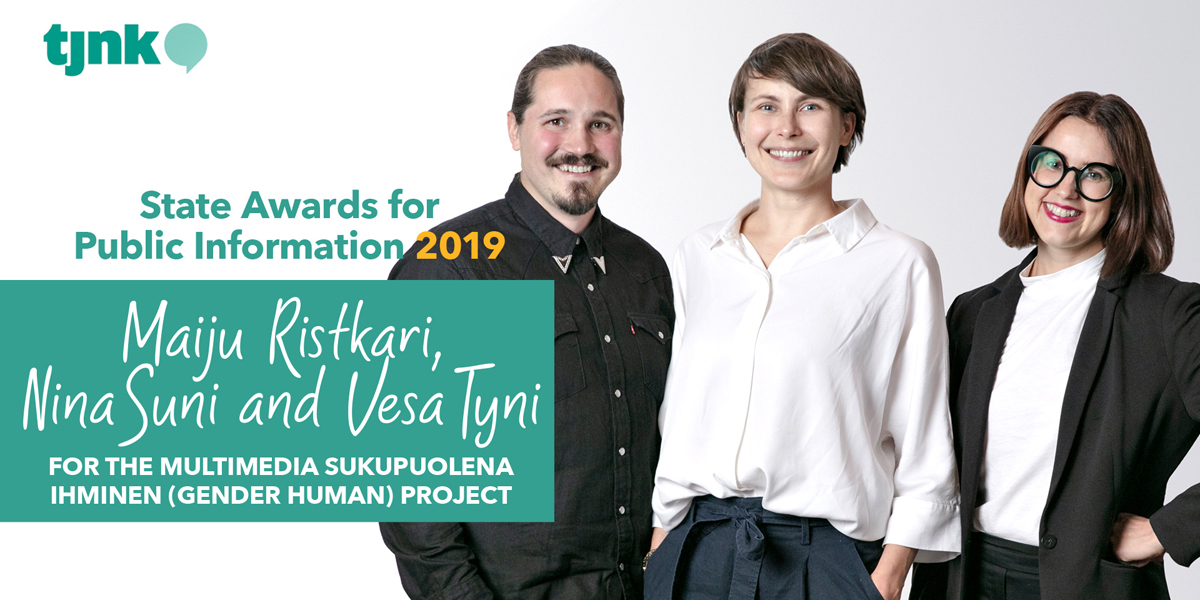 Producer Maiju Ristkari, curator Nina Suni and photographer Vesa Tyni for the multimedia Sukupuolena ihminen (Gender human) project
Sukupuolena ihminen is a multimedia project which presents the diversity of gender identity. The project comprises a photographic exhibition, a book and a website, and the project as a whole seamlessly brings together research data, expertise borne of experience and art.
The photographic exhibition depicting trans people has toured 26 locations in different parts of Finland, from Helsinki to Rovaniemi and from Kuusankoski to Lapua. Vesa Tyni's pictures present their subjects in environments that are important to them, with respect. The exhibition spaces have often been public libraries, whose statutory mandate includes promoting active citizenship, democracy and freedom of expression. These aims are shared by the Sukupuolena ihminen project, without being too pushy or unnecessarily provocative.
The Sukupuolena ihminen book is a wide-ranging presentation of gender identity. It is designed for young people but is equally suitable for anyone interested in gender identity. It undoubtedly serves as support and help to young people seeking their identity, while also expanding the world and the thinking of the majority cis population.
The website brings together the life stories of people with different gender identities in words and pictures, valuing the people who have made their experience public.
The Sukupuolena ihminen project successfully combines different forms of gathering and publishing information. As a project that makes use of data based on research and based on experience, as well as different forms of publication, it deepens our understanding of a subject in society that touches every individual, which is at the same time private and public. The end result is an informative and human whole.
More information in the Ministry's press release
You might also be interested in