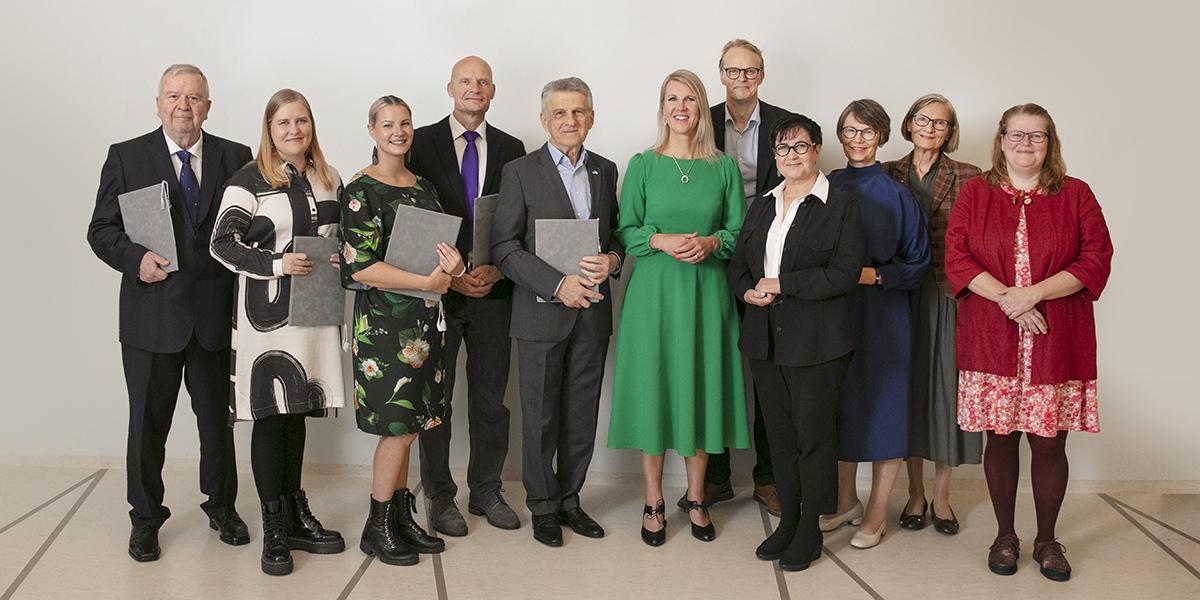 Minister of Science and Culture Sari Multala presented nine state awards for public information on September 12th 2023. 
The Ministry of Education and Culture in Finland grants annual state awards for information publication based on the proposal of the Committee for Public Information. Awards are granted for major information publication work in the field of scientific, artistic and technological information dissemination that has increased citizens' knowledge and stimulated societal debate. The award is granted for currently relevant information publication work, which may include high-level non-fiction works or other information products. The award can also be granted for exemplary, long-term, multifaceted public information work. 
Faktabaari for their diverse work in fact-checking and promoting information literacy (Avoin yhteiskunta ry)
Faktabaari (Factbar) promotes fact-based public debate in many ways: by reviewing information and arguments presented in public debate, by producing materials to support digital information literacy, and by collaborating with national and international networks to promote democracy.
Faktabaari was founded in 2014, and it initially focused on journalistic fact-checking. Faktabaari was the first and so far the only independent journalistic fact-checker in Finland. In its first year of operation, Faktabaari received the European Public Communication Award for checking the accuracy of statements made during debates in the European elections.
More recently, they have expanded their activities from fact-checking to the promotion of digital information literacy as well as the prevention of and public awareness on disinformation and social polarisation. The ambitious goal of Faktabaari is to make digital information literacy an integral part of civics teaching. Although Faktabaari is run by a small group of people, strong collaborative networks make its work impactful beyond its size.
Social trust in Finland is relatively high compared to other countries, but signs of social polarisation and loss of trust can be seen even here. Faktabaari is an important contributor to openness and democracy in our society.
The community prize is awarded to Avoin yhteiskunta ry.
Licensed social worker Maija Haapala and licensed social worker Camilla Jokela for the TikTok-sossut service
TikTok-sossut – Maija Haapala and Camilla Jokela – communicate about child welfare and children's rights in ways that are based on the media consumption habits of the children and young people themselves. They publish information in a professional and credible manner, targeting children and young people.
TikTok-sossut handle challenging and important topics. They communicate discreetly, understandably, concisely, and expertly.
Haapala and Jokela are licensed social workers with extensive experience in child welfare work. With TikTok-sossut they have succeeded in presenting practical social work with young people and difficult official language in the form of easily accessible TikTok videos. Haapala and Jokela's work is societally significant, exemplary and creative publication of information.
There is a lot of complicated legislation related to child welfare and children's rights, and privacy must always be respected when dealing with such matters. Many decisions related to child welfare may seem strange because it is not possible to discuss individual cases publicly. For this reason, there is a lot of misunderstood, distorted and one-sided information on child welfare and children's rights circulating in social media. TikTok-sossut quickly correct misleading information when rumours begin to spread. Haapala and Jokela demystify child welfare by communicating about the daily life of children taken into care in an understanding, positive and encouraging manner on a popular platform.
Photographer Hannu Laakso for the Me otukset book series (Into Kustannus)
Hannu Laakso's educational storybook series Me otukset introduces the family life of different animal species using photographs and stories. Currently published books in the series include Me Kettuset (2020), Me Karhuset (2021), Me Hukkaset (2022), and Me Lintuset (2023).
The family life of animals is explained from the animals' perspective. The reader can enjoy skilful photographs and learn about the typical behaviour of different animal species: how the animal family lives together and what kinds of enemies or threats it may encounter. Both peaceful and aggressive interactions between different animals and species are described in high-quality colour images and story texts. The narrative gives space for the pictures to tell their own story, and the reader gets to experience situations that could be difficult to believe without the evidence of their own eyes.
Nature photographer Hannu Laakso is internationally renowned. His photos have been accepted into more than 500 international exhibitions, and he has received more than 120 international photography awards.
The depiction of animals and wilderness and sharing information in a non-technical manner is an important way of making information about Finnish nature accessible to new, often urban generations and young readers.
Professor Maria Lähteenmäki for the book Punapakolaiset: Suomalaisnaisten elämä ja kohtalo Neuvosto-Karjalassa (Gaudeamus)
In her book Punapakolaiset: Suomalaisnaisten elämä ja kohtalo Neuvosto-Karjalassa, Maria Lähteenmäki, Professor of History at the University of Eastern Finland, does a skilled analysis of a challenging period of history that has previously been overlooked.
Thousands of people voluntarily migrated or fled to Soviet Russia and later to the Soviet Union. In her work, Lähteenmäki draws on their stories of how disappointing the dictatorship proved to be. The focus is on research that is understanding of the women's fate. At the same time, the author constructs an overall picture that skilfully utilises contemporary texts and their authenticity. The work provides a versatile analysis based on extensive source materials, both of the members of the elite who fled to the Soviet Union and of ordinary people and their experiences in the workers' paradise of the 1920s and 1930s.
Lähteenmäki also discusses the somewhat inadequate attempts by the Finnish state to alleviate the distress of its citizens and to support their attempts to return to their home country.
The history of the future is taking place today. Lähteenmäki reminds us of the importance of recording the events and stories of past crises as material for future history research.
Professor Helka Riionheimo for her merits in Karelian language revival
The Karelian language with its various dialects, such as White Sea Karelian, South Karelian and Livvi-Karelian, is an indigenous but largely invisible and poorly known minority language in Finland.
Helka Riionheimo, Professor of Finnish and Karelian languages, leads the Karelian language revival project at the University of Eastern Finland. The project has tackled the revival of the Karelian language open-mindedly and with various approaches. There are several thousand Karelian speakers in Finland, but they are scattered and without a natural geographical connection. The revival project has succeeded in bringing the Karelian language and its community of speakers into the modern world by using a wide range of methods related to social media, traditional media, and communality. The project has also developed and compiled glossaries for new areas of life into which the traditional use of the language has not extended. At the same time, information on the Finnish language minority has been made more accessible to the public.
Several people are involved in the Karelian language revival project, but Professor Riionheimo is the project's leader. She herself has talked about the majority population's responsibility towards minority languages as follows: "As a speaker of Finnish, which is a majority language, I feel responsible for ensuring that speakers of minority languages have the opportunity to use and develop their own language."[1] Ensuring this possibility also constitutes significant publication of information.
Head of research Minna Sarantola-Weiss for her book Me halusimme kaiken: 1980-luvun historiaa (Siltala)
Minna Sarantola-Weiss's work is a skilful depiction of Finland in the 1980s. The book begins with a short list of some of the events that took place in Finland and elsewhere in the world during the decade, orienting the reader to the many perspectives and levels of examinations on which Sarantola-Weiss's fascinating journey through time is built.
The book diversifies and challenges images of Finland that have previously dominated our national memory. The 1980s were more than just shoulder pads and the selfish consumerism that preceded the economic crisis of the 1990s. The greyish and isolated "Finlandised" society quickly became more prosperous, open, and international. Helsinki was bustling with a new kind of city culture. An ideology of peace, environmentalism and feminism turned many people into activists even outside the capital. Even though in the author's own memories of student life in the 1980s "everything happened in Helsinki", most of the phenomena examined in the book were common to all Finns. Changes in political and economic realities and the new media of that time produced a new kind of thinking and a culture of consumption; information technology and entertainment electronics paved the way for today's digital world.
Sarantola-Weiss's book is a research-based but easy to read, fun and stylish piece of non-fiction writing that values everyday history. Extensive and insightfully selected illustrations combined with reader-friendly language and layout produce an experience of a skilfully curated exhibition that speaks to everyone personally and at the same time expands our memory and shared understanding of 1980s Finland and its heritage.
Author and Professor Emeritus Matti Vuento for his book Virus, joka pysäytti maailman: Koronapandemian syyt, seuraukset ja opetukset (Gaudeamus)
In March 2020, the World Health Organisation (WHO) declared the Covid-19 outbreak a pandemic. The infection spread quickly. Equally fast was the spread of news reporting and public debate on the virus. In the middle of this flood of information, Matti Vuento's book Virus, joka pysäytti maailman gives us confidence.
Vuento is able to describe the virus in ways that make even hard scientific data easy to understand. Vuento concisely presents the stages of the spread of the infection and the national and international responses to the pandemic. The book also discusses the search for vaccines, vaccine nationalism, and the power plays of influential countries. Vuento's book is a clearly structured, multifaceted overview that teaches all of us something new.
Although international knowledge on coronavirus is constantly being updated, Vuento's extensive source materials and research data will stand the test of time. The book allows the reader to better understand what we should really be paying attention to when considering the virus that made the recent years challenging in so many ways. The book makes you wonder how future pandemics should be approached.
The Covid-19 disease has killed millions of people. Yet Vuento's work brings a sense of proportion to the discussion. The coronavirus is not an apocalyptic sign; there have been similar outbreaks throughout history.
Zacharias Topelius Skrifter project for the modern publication of significant cultural heritage (Svenska litteratursällskapet i Finland rf)
Zacharias Topelius Skrifter (ZTS) is an open online publication by Svenska litteratursällskapet i Finland available at topelius.fi. The publication was prepared as the result of an academic cultural heritage and critical edition project that lasted almost two decades and was completed at the end of 2022. Several dozen researchers and experts from different fields have participated in this project to make Topelius's works freely available in digital format for the first time. The materials, most of which were previously unpublished, are now easily available and free of charge for all interested parties.
In addition to the research, publication and editing work, the project has also organised open events and webinars for the academic community and the general public. Digital teaching materials and an extensive image bank have been published to complement the materials. When the project began, there were no similar digital publications in the Nordic countries, so the project developed new technical solutions, participating for its part in the creation of new digital edition practices for others to utilise. The entire project is based on extensive and ambitious cooperation with different parties.
The significance of Zacharias Topelius for Finnish identity, storytelling and cultural history is unparalleled. Accessible digital publication of a critical edition of his works is a modern monument worthy of such a prominent figure and represents information publication at its finest.
The community prize is awarded to Svenska litteratursällskapet i Finland rf. The prize does not include a monetary reward.
Ukrainian Centre project for producing and disseminating information in rapidly changing circumstances (Ukrainian Association in Finland ry)
Access to information is one of the preconditions for a democratic society. In today's society, the equality of how information reaches people living on the edges of society in different ways is increasingly important. Messages from these people must also be made visible in the society's information production, public debate, and decision-making.
In the Ukrainian Centre project, the Ukrainian Association in Finland has promoted the production and dissemination of information in a critical situation in which people of different ages fleeing the war in Ukraine have moved to Finland. The association has disseminated information in multiple languages and in the middle of the daily lives of the people arriving in Finland, which has made the information accessible and made it easier for many people to adapt to their new situation. The Ukrainian Association in Finland has networked with the Finnish society and its civic actors in many ways, providing important information on the lives and needs of those who have moved from Ukraine to Finland. This has made it possible to create a common understanding in rapidly changing circumstances.
The community-based information produced and disseminated by the Ukrainian Association in Finland in many channels is an encouraging example of the value of accessible information in today's world, where not only people but information is crossing national borders. Everyone has the right to be informed.
The community prize is awarded to Ukrainalaisten yhdistys Suomessa ry. 
Photo: Jaakko Lukumaa. Awardees from left: non-fiction author, professor emeritus Matti Vuento, licensed social worker Camilla Jokela, licensed social worker Maija Haapala, photographer Hannu Laakso, president of the Ukrainian Association in Finland Vassili Goutsoul, minister of science and culture Sari Multala, president of Avoin yhteiskunta ry Mikko Salo, professor Maria Lähteenmäki, head of research Minna Sarantola-Weiss, chief editor of Zacharias Topelius Skrifter Pia Forssell and professor Helka Riionheimo. 
[1] Source: https://uefconnect.uef.fi/henkilo/helka.riionheimo/, obtained 26 May 2023
You might also be interested in