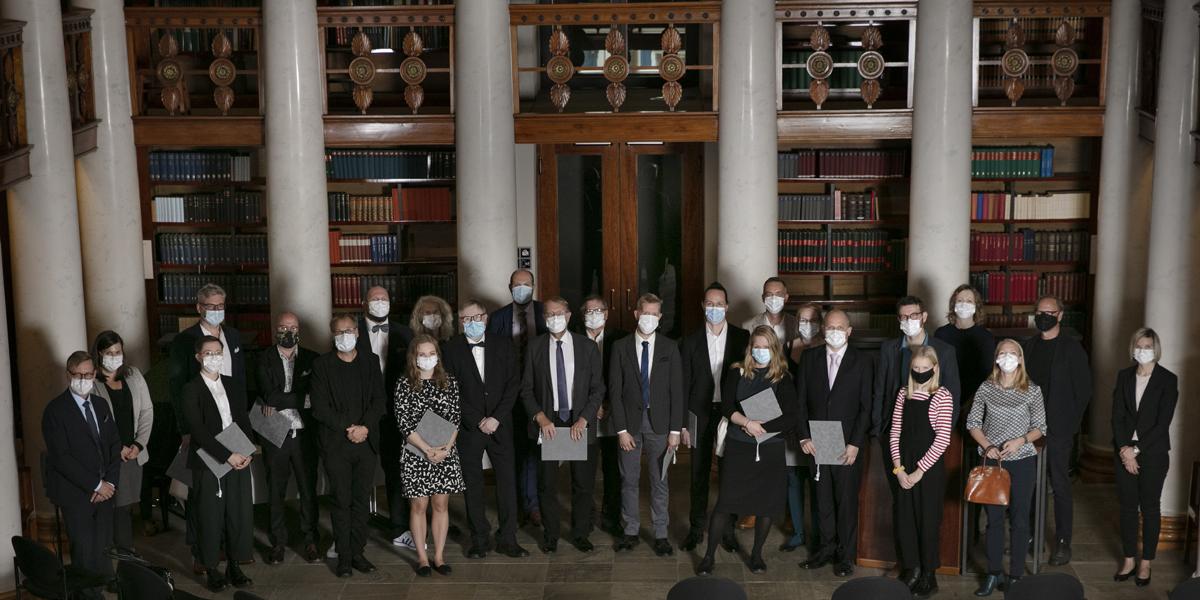 Finland's Ministry of Education and Culture has awarded the State Awards for Public Information to significant work in the field of public information in science, the arts and technology.
The Committee for Public Information draws up the proposal suggesting recipients of the awards for the Ministry of Education and Culture.
A lifetime award may also be made for especially long-term work worthy of merit. Deliberations take into account the different languages in our country (including languages other than the official languages and minority languages of Finland) and regions, topics of public information and publication methods, and seek to recognise such evolving ways of producing and conveying reliable information which reach different audiences.
State Awards for Public Information 2020
Lifetime Award for Public Information
Non-fiction and science fiction writer Risto Isomäki for highly significant, long-term public information work as an advocate for the future of the land, sea and climate, also using forms of artistic expression 
Risto Isomäki has published one book each year for the past 25 years. He has published a wide variety of works, ranging from science fiction, novels, essays and pamphlets to handbooks and non-fiction literature. Isomäki also typically blends literary genres within each of his works. In addition, films and comics have been made on the basis of his works.
Isomäki rose to public prominence in 2005, if not before, when his novel, Sarasvatin hiekkaa (The sands of Sarasvati), was nominated for the Finlandia Prize. Isomäki went on to receive the science fiction award and the Warelius award from the Association of Finnish Non-fiction Writers. 
The defining themes behind Isomäki's activities and output are the destruction of the environment and climate change. His works combine research information with imaginative plots typical of science fiction. His books offer readers experiences and excitement, as well as information on the essentials for life: the sea, trees, glaciers and animals.
Isomäki moves smoothly from one continent to the next, from era to era, and between the worlds of fact and fiction. It is no wonder that his favourite character is Snufkin from the Moomins. 
In addition to his prolific literary output, Risto Isomäki is also an active influence in matters concerning the environment and developing countries. He asks questions, provokes debate, gives his justifications and seeks to drive a change towards a sustainable future. 
Awards for Exemplary Public Information
Journalist and non-fiction writer Hanna Nikkanen, editor-in-chief Antti Järvi, subeditor Ilkka Karisto, journalist and journalism lecturer Reetta Nousiainen, managing director Jussi Ruusila, journalist and scriptwriter Riku Siivonen, managing editor Anu Silfverberg, journalist and non-fiction writer Johanna Vehkoo, and journalist and scriptwriter Ilkka Pernu for Long Play media, an ambitious pioneer of digital journalism
The forms of journalism and the associated earnings models are in a state of profound transformation. Long Play has established a position as a pioneer in digital journalism based on thorough groundwork and facts.
Long Play, which was founded in 2013, publishes 12 articles a year of long-form reportages, profiles, essays and investigative journalism. Long Play is financed by its readers and does not include adverts. It provides talented independent journalists with an important publication channel and the opportunity to cover their topics in exhaustive depth. It also publishes short articles free of charge and reader letters, and it arranges training in writing.
Long Play's ambitious journalism serves as an excellent counterbalance to fast-paced, commercialised news journalism. It highlights themes that have been hushed up or neglected and covers them in an informative but entertaining way.
Long Play sets an important example for the development of high-quality journalism, making a younger audience more aware of journalism. In doing so, Long Play is playing a part in reinforcing freedom of speech and democracy.
Documentary film director, producer and researcher Jouko Aaltonen and Docent of history Seppo Sivonen for their work, Orjia ja isäntiä – ruotsalais-suomalainen siirtomaaherruus Karibialla (Slaves and masters – Swedish-Finnish colonial domination in the Caribbean)
Orjia ja isäntiä, by Jouko Aaltonen and Seppo Sivonen, describes the small Caribbean island of Saint Barthélemy at the turn of the 19th century. This small Swedish colony is relatively unknown, especially in Finland. Even less is known about the involvement of Swedish people – and many Finnish people – in the slave trade. 
Slaves were bought and shipped to the island from Africa, and then sold on or transferred elsewhere in the Caribbean and America. Many of the Swedes and Finns who ended up on the island as civil servants and businessmen were slave traders and slave owners. Historical accounts have always highlighted the personal freedoms of Swedish subjects, so it is important for our national self-understanding to be aware of this dark chapter in our shared history when our countries engaged in the slave trade. Although Sweden was a relative minnow in the international slave trade, its involvement went all the way up to the royal household. 
Orjia ja isäntiä describes life on a colonial island in a vivid and captivating way. The facts behind the work are exhaustively documented.
In their book, Aaltonen and Sivonen remind the reader that slavery has still not disappeared into the mists of time. An estimated 40 million people are still working in slave-like conditions in factories, weaving mills, sewing shops or the sex industry. Those of us lucky enough to inhabit countries with a high standard of living consider ourselves entitled to enjoy cheap commodities produced using slave labour, just as our countrymen did two centuries ago. 
Producer and journalist Fanny Fröman for making the world easier to understand in a way that is suitable for children and inspiring children and young people to become citizens of society
Children are active users of media and are surrounded by the same barrage of news as adults. That is why it is important to inform children about world events in a clear way that is suitable for their age group and to provide them with high-quality news content.
The idea behind Lasten uutiset, a news service for children published by Helsingin Sanomat since spring 2016, is to promote media literacy among children and adults alike. Lasten uutiset helps children to learn what is news and what is not. At the same time, children learn how to keep track of events in society and gain some extra knowledge about the world. The news service, which is free of charge and open to all, is used in schools and homes all over Finland.
Lasten uutiset is a multi-channel service that provides information about events in Finland and around the world in a way that is easy for children to understand. Lasten uutiset also covers unpleasant matters, but it strives to do so in a way that does not make children feel more afraid.
The majority of the items on Lasten uutiset are news stories produced specifically for children, selected because of their relevance to children's lives and interests. Children often take an active role in the news stories, appearing as interviewers and experts.
Since the very beginning, journalist Fanny Fröman has produced, made and conceived the printed magazine and news broadcasts for Lasten uutiset. Fröman never underestimates her audience. She explains topical phenomena, such as the coronavirus epidemic of 2020, in a journalistic, unembellished way.
Managing editor and head of research communications Anna-Kaisa Hiltunen for her work, Euroopan porteilla – turvapaikkapolitiikan vaikeat vaiheet (At the gates of Europe – the difficult phases of asylum policy) 
As its name implies, Euroopan porteilla uses balanced information to open the door to the past and present state of Europe's refugee and asylum policy. The work is the first non-fiction book in Finnish about the backgrounds and history of the EU's asylum policy. 
Euroopan porteilla offers a wide-ranging, clear overview of the development of refugee and asylum policy in Europe since the Second World War. The book is equally relevant as a specialist work on asylum policy as well as a non-fiction book describing post-war history in Europe, covering the phases of the Cold War, economic crises and the ups and downs of European integration through the prism of asylum policy. By combining issues concerning refugees and asylum with the sometimes tense history of European integration, Anna-Kaisa Hiltunen provides valuable insight into how these issues have established their roles in the history of Europe – at times controversial, at others overlooked.
The author, Anna-Kaisa Hiltunen, is an expert in many dimensions of her chosen theme. She is a journalist specialising in migration issues, and she worked as a visiting expert at the Ministry for Foreign Affairs of Finland. The book tackles a global phenomenon from a cross-border perspective, which is worthy of special merit. The outcome is an impressive book about a phenomenon that is discussed at least as much in terms of emotion and opinion as it is on the basis of research-based knowledge.
Journalist and author Juha Kauppinen for his work, Monimuotoisuus – kertomuksia katoamisista (Diversity – tales of extinction)
Juha Kauppinen's book, Monimuotoisuus, presses the reader to consider mankind's role and relationship with biodiversity. Today, the greatest threat to biodiversity is human behaviour, thoughtlessness and lack of knowledge, which has also turned us into an endangered species. 
In his book, Kauppinen guides the reader through Finnish nature via six kinds of key species. These species – the yellow-breasted bunting, the Siberian jay, the large scabious mining bee, meesia longiseta moss, the trout and the glacier crowfoot – are of such value to their habitats that their extinctions could affect the ecosystems and vitality of dozens of other species. 
When Kauppinen speaks of extinction, he is not referring directly to the extinction of certain rare species but to the disappearance of normality. The fact that nature as we are used to seeing it is disappearing.
According to Kauppinen, it would not be difficult to save biodiversity. It is simply a matter of how well people understand the interrelations between different ecosystems and the natural habitats of different species.
Marshlands, forests, rivers, meadows and wetlands, as well as thickets, puddles and every type of wasteland, assume a new, much stronger significance as a result of this reading experience.
Marine scientist and non-fiction writer Kai Myrberg and professor emeritus and non-fiction writer Matti Leppäranta for their work, Itämeri ja ihminen (The Baltic Sea and man)
Itämeri ja ihminen provides a wide-ranging introduction to the Baltic Sea. The work is divided into ten thematic areas, covering matters such as the significance of the sea's basin-like nature and the plants, animals and invasive species in the Baltic Sea. The reader learns about Finland's naval wars, cruise ships and the competition between shipping companies for passengers, as well as oxygen depletion and cyanobacteria in the Baltic Sea. The book covers the Baltic Sea's prehistory, the history of research and the history of its largest islands.
Everything about the work has been done clearly, down to the illustrations. The writing style varies from illustrative storytelling to scientific narrative. The book provides information in an easy-to-understand format, avoiding information overload. The authors have paid careful consideration to the order, manner and perspectives from which the matters should be presented to the general public. Itämeri ja ihminen is an opening gambit that intends to inspire readers to find out more about the aspect of the Baltic Sea that interests them most. The real value of the work is in the curiosity it arouses about the Baltic Sea, although it is by no means a new topic.
Itämeri ja ihminen describes basic issues in a fresh, new way, including topics such as the sinking of the MS Estonia in 1994, but it often provides unexpected information, such as incredible interpretations of the reasons for the ship's sinking. The astounding aspects of the work include the descriptions of chemical weapons lying dormant on the seabed, as well as the stunning sandy beaches that can be found on the Baltic Sea. In their capacity as researchers, the non-fiction writers Kai Myrberg and Matti Leppäranta have studied the Baltic Sea for more than 30 years. Their knowledge of other seas enables them to demonstrate the uniqueness of the Baltic Sea by comparing data such as the depths, freezing and salinity of the Baltic Sea with other seas.
Over the last century, the balance between the Baltic Sea and mankind has been disturbed. Itämeri ja ihminen is also a statement on behalf of the future of the Baltic Sea. The work makes its mark. Once read, the content of the book is not easy to forget.
Rap artist Paleface (Karri Miettinen) and author Esa Salminen for their work, Kolmetoista kertaa kovempi – räppärin käsikirja (Thirteen times harder – the rapper's handbook)
Choppaus, flossaus, jäppäys and fäträttäys. Kolmetoista kertaa kovempi – räppärin käsikirja is full of foreign words and rappers' jargon. The 500-page block of a book is also a work of chronicling and journalism, as well as a handbook in rhythm, rhetoric and financial matters. The work is the first handbook of its kind to be written in Finnish, and it takes its mission seriously. 
One of the authors (Paleface) is an experienced rapper. He has approached the topic from the inside. The work contains some first-person narratives, as well as sections written in the third person. A career as an artist has doubtless opened many doors and allowed the authors closer access to their subject than they would have had as outsiders. Despite its insider credentials, the work critically examines the negative sides of rap culture, such as sexism and crime. 
The work speaks directly to the reader – the young, wannabe rapper – occasionally with paternal advice and sometimes brimming with the self-confidence of a rapper. The book is also convincing to less likely readers with its comprehensive and familiar approach. An anecdote about a rap workshop at a reform school is a reminder of the importance of doing something meaningful: the personnel at the reform school were puzzled when newspapers began disappearing from the break room. The young people had realised that if they wanted to learn to rap, they needed to expand their vocabulary. There were even rumours of a visit to the library.
Kolmetoista kertaa kovempi shows the reader the path of rap culture from being a subcultural phenomenon that began on the margins to reaching the top of the charts and enjoying mass appeal. It paints the big picture, setting out many small details along the way and providing the reader with a wealth of understanding and food for thought.
More information:
General Secretary Reetta Kettunen, TJNK, tel. +358 40 733 5935
Photo: Jaakko Lukumaa
You might also be interested in